×
Forbidden!
Some actions like deleting maps or removing a room attached to a map is only available to "MeetingRoomEditors". See
Setup
.
Setup
To setup up MeetingRoomMap follow this guide:
---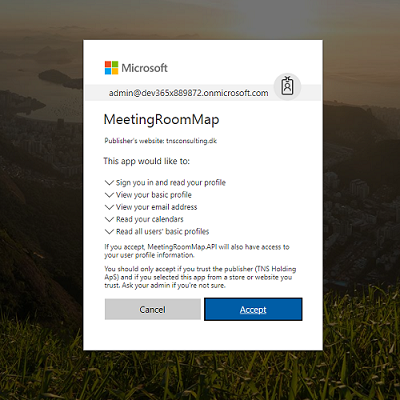 Step 1
- consent to www.meetingroommap.net
Make sure a tenant administrator has given consent to www.meetingroommap.net. Go to https://www.meetingroommap.net/Account/SignUp to grant access as a tenant administrator.
---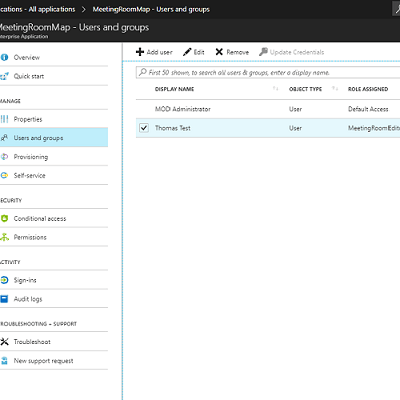 Step 2
- assign editor role (optional).
In Azure AD the tenant administrator can assign the "MeetingRoomEditor" role to users. A "MeetingRoomEditor" will be able to delete maps and room locations. To add users to the "MeetingRoomEditor" role, you need to be an tenant administrator and go to the Azure portal -> Azure Active Directory -> Enterprise Applications -> All applications
From here select "MeetingRoomMap" -> Users and Groups -> Add user (make sure to select role "MeetingRoomEditor").
Direct link to Azure AD all applications: Azure Portal - Applications blade
---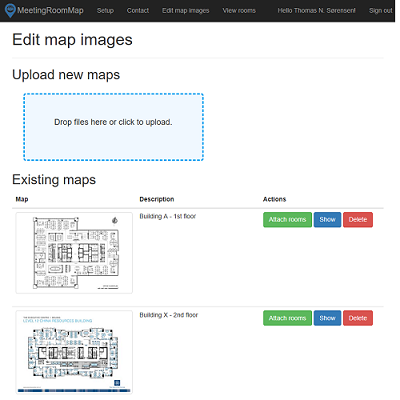 Step 3
- add maps and assign rooms, persons and custom locations
Now any user within the Office365 tenant can upload maps and assign rooms to maps (click the settings icon in the add-in in Outlook or go directly to this site and choose "Edit map images" in the top menu when logged in).
Users can also map co-workers by assigning co-workers location ("OfficeLocation" from Azure AD) to maps - go to Persons, as well as create custom locations - go to Custom
---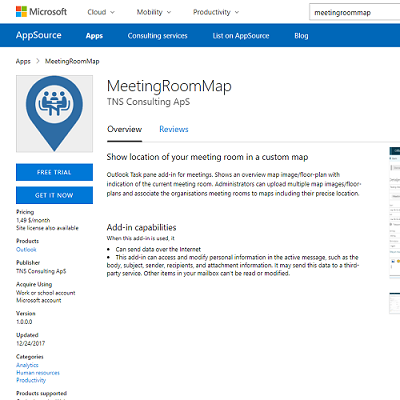 Step 4
- Get Outlook add-in in the app store
To have MeetingRoomMap appear within Outlook meetings, get the Outlook add-in. Users must acquire it through the Microsoft App store https://appsource.microsoft.com/
As an administrator you can use "Centralized Deployment" to deploy the Outlook add-in to users/groups within the organization. Learn more about using Centralized Deployment here: https://docs.microsoft.com/en-us/office365/admin/manage/manage-deployment-of-add-ins?view=o365-worldwide.
---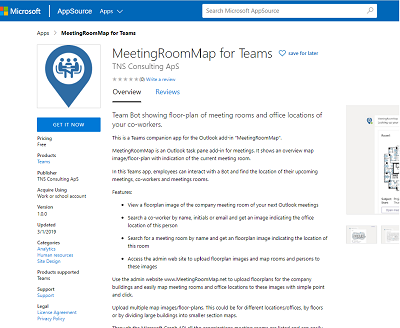 Step 5
- Get Team bot in the app store
To install the MeetingRoomMap bot in Teams, get the Teams add-in. It must be acquired through the Microsoft App store https://appsource.microsoft.com/
An administrator can use Teams setup policies to pin MeetingRoomMap to the app bar, so that users don't have to install the bot through the store. Learn more about Teams app setup policies here: https://docs.microsoft.com/en-us/microsoftteams/teams-app-setup-policies.
---
Step 6
- Install the web parts for SharePoint and Teams
This step must be performed by a SharePoint administrator.
Get the web parts from the Microsoft App Store https://appsource.microsoft.com/
Or download the latest version of the webparts directly below and run the self-extractor to unzip the SharePoint package file (.sppkg):
Download MeetingRoomMap_webparts_1.2.1.0
Upload the package to the SharePoint app catalog (check this link if SharePoint app catalog have not yet been setup in your tenant: https://docs.microsoft.com/en-us/sharepoint/use-app-catalog ).

Make sure to trust the web parts and make the solution available to all sites: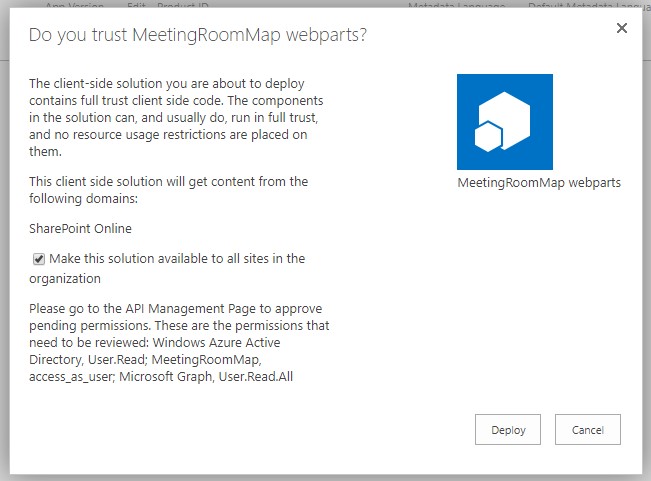 Go to SharePoint API access page (SharePoint admin center -> Advanced -> API access) and approve the requests for letting the webparts access MeetingRoomMap backend and the AD and Graph to look up users: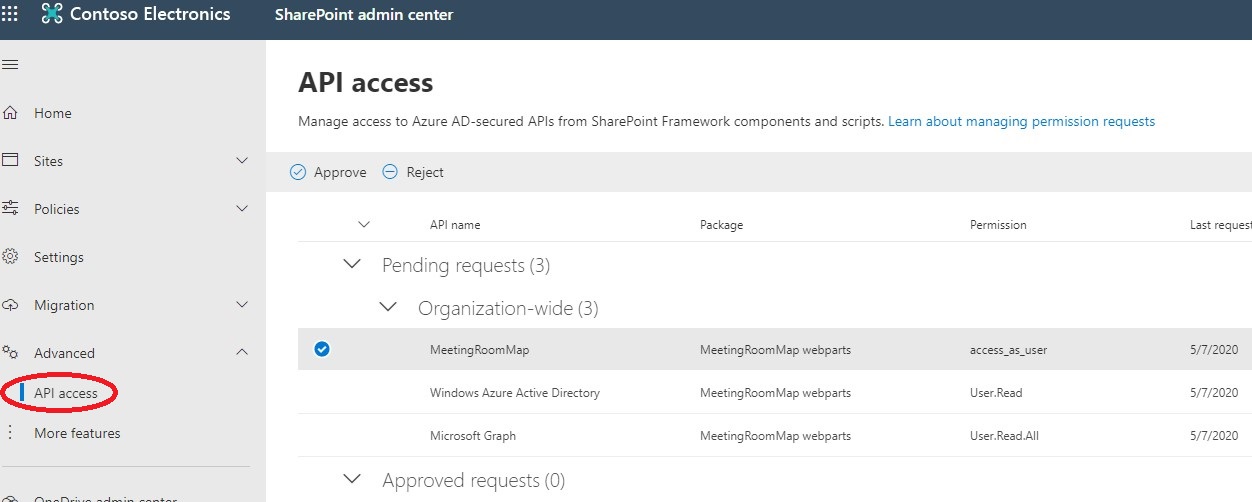 Go back to the app catalog, select the MeetingRoomMap webparts and click "Sync to Teams" in the "Files" ribbon. This ensures the web parts can also be added to Teams.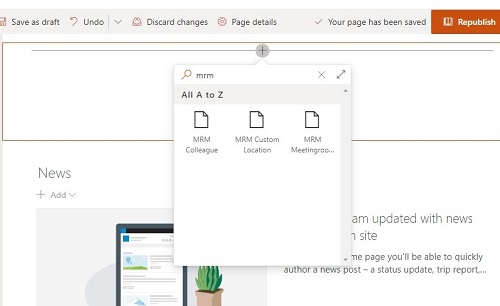 The web parts can now be added to any modern SharePoint page - search for 'mrm' to quickly look up the three MeetingRoomMap webparts:
Use web part properties to configure how the web part should behave (search mode or fixed location etc.):

The web parts can also be added as a Teams tab (either in a Channel or as a 'Personal' tab):